The creative project yesterday was converting some ugly, too-short flared jeans into summer shorts. The creative project today is making a blog tutorial so you can do it, too!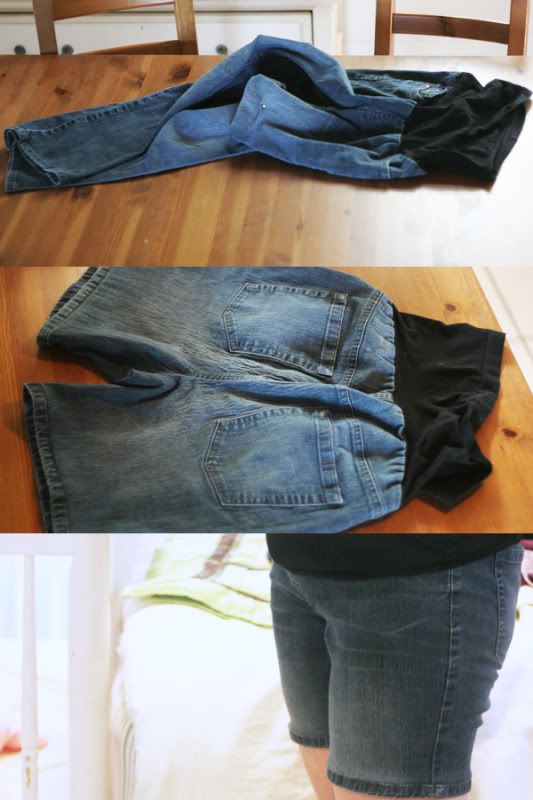 Start with the jeans you hate (they don't have to be maternity jeans). Decide how long you want them to be and mark that length with a pin (see the tiny yellow pin in the left leg of the jeans below?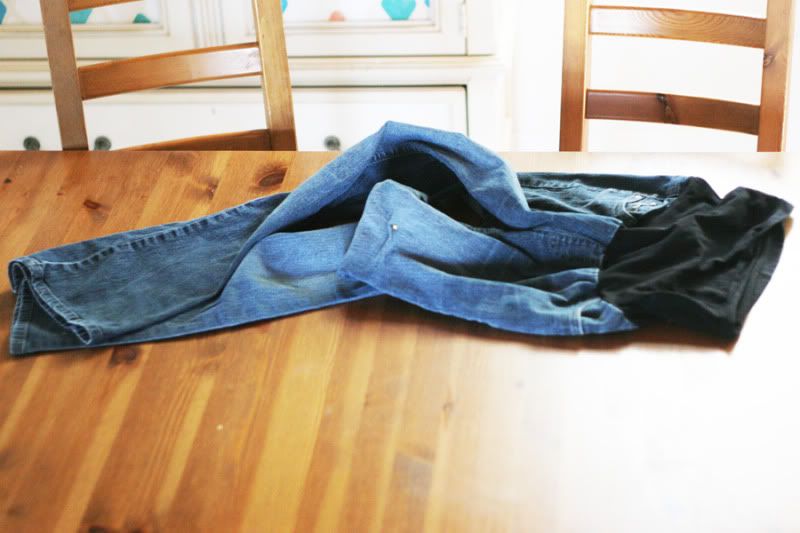 Cut off the bottoms of the legs, approximately an inch-and-a-half below the pin you used to mark your desired length. I can already tell this is going to be a horrible tutorial. Now cut the bottom hems off, leaving an inch-and-a-half of fabric above the hem. Pin one hem to each leg of the shorts with right sides facing, lining up the side seams and the raw edges to match. This project is so much easier to do than explain. Look at the picture and maybe it will become clear: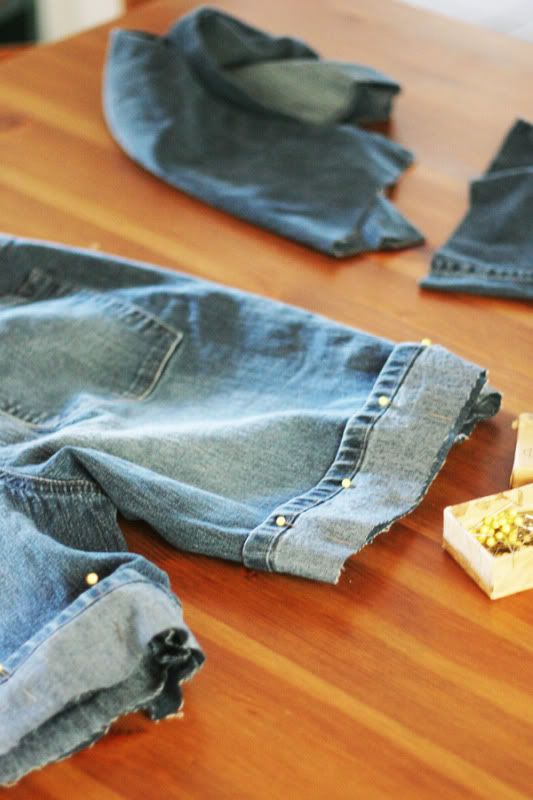 Sew as close to the base of the hem as you dare. Be brave. It'll make your shorts look better.
Trim all that "inch-and-a-half" stuff down to about a quarter-inch from the sew line. Turn your new jorts inside out and iron the hems so they'll sit flat when you wear them. I'm not sure whether it's obvious the white triangle in the bottom of this photo is an iron, but if you don't know how to iron this tutorial can't help you much anyway: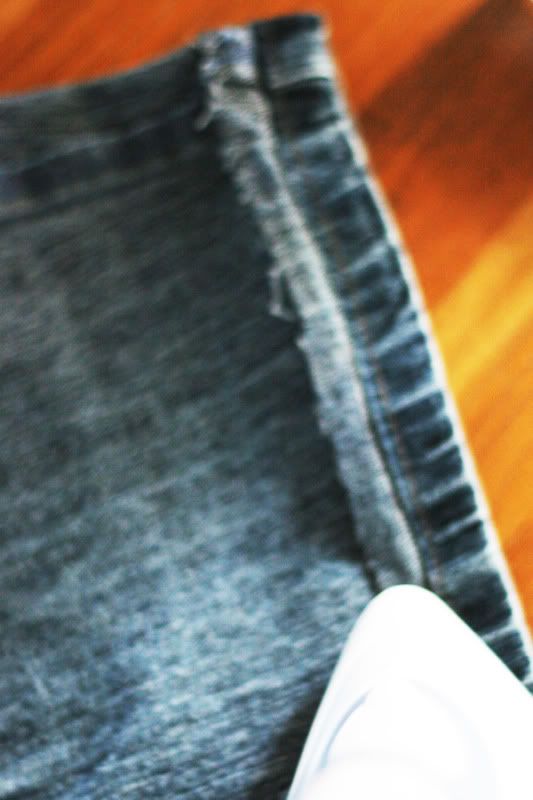 Turn the thing right side out, and you have jorts! And they don't look as homemade as if you'd tried to make new hems on your own!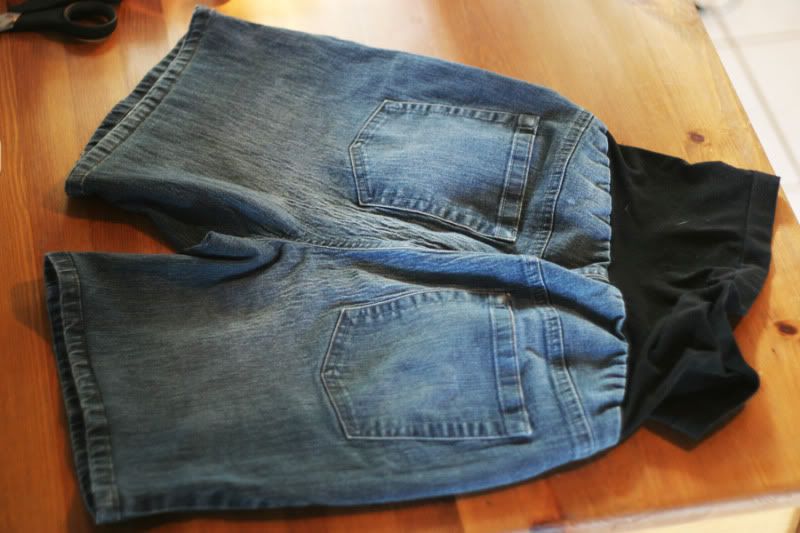 Take a picture of yourself wearing your jorts, taking care to crop out your gassy bump and the unfolded laundry surrounding you.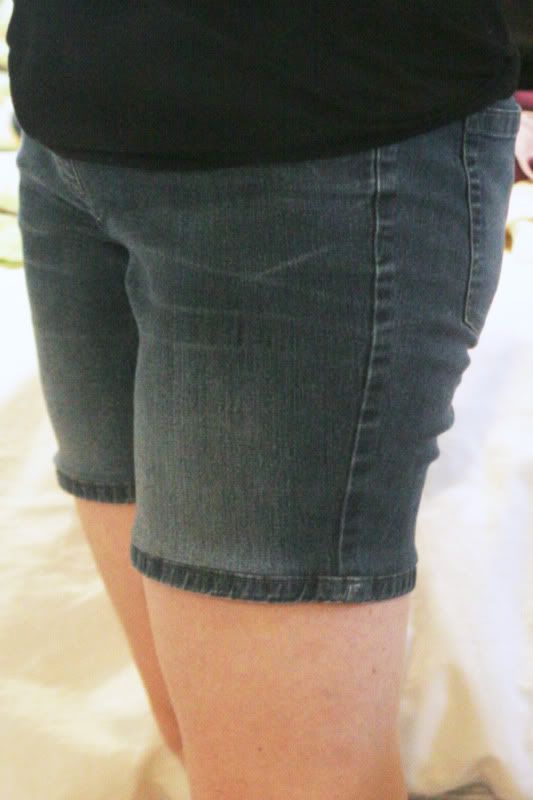 Note: I was only able to use the existing pant hems for these jorts because the legs of my pants flared out at the bottom to approximately the same size as their thighs. Such a drastic transformation wouldn't work as well with, say, skinny jeans. You can check whether your pant bottoms flare enough by trying your pants on upside-down first. I'm not kidding. Insert your feet at the leg openings and pull those upside-down pants up your leg to whatever position you want your shorts hems to sit. If the hems fit there comfortably and not too loosely, you're good to go.
Also, I'm not going to pretend this didn't happen:
I got a little cocky and went too fast sewing across the thickest part of the hems at the side seams. Three times. Learn from me.